Hiking Trails.
Fanie Botha Trail, Eastern Transvaal. This starts at Ceylon forestry station and takes 5 days, but we got lost and invented our own trail on the last day.
Otter Trail, Garden Route, Cape (Twice!) A super 5-day hike along the coast:
Linda on the Otter trail.

Natures Valley: the end of the Otter.

A tranquil scene in Millwood near Knysna.
Prospector's Trail, Eastern Transvaal. Poorly marked and very hot.

Giant's Cup Trail, Natal. Popular and pretty. Starts at Underberg and ends at Giant's Castle.

The Drakensberg mountains in Kwazulu-Natal.

Northern Transkei Wild Coast Trail. (Mkambati to Port St. Johns) -Very remote and beautiful: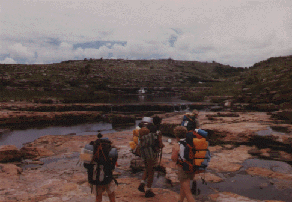 Day three of this hike is truly spectacular. The girl leading in this photograph was to become my wife.