Some Citroëns, photographed in Parys, South Africa: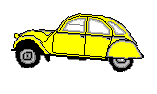 (Click on the images to enlarge them.)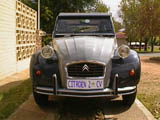 Tony Bones' beautiful 2CV Charleston, at the 21st birthday of the CTR.

Another view of Tony's Charleston.

and another one.

Konni Hoferichter's 2CV6 Club.

Konni's 2CV6.

Konni's 2CV6.

Dennis Winnecott's green concourse winner.
Steve le Roux' 1937 coupé.